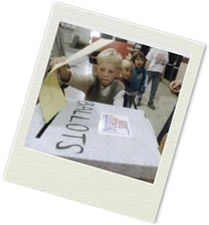 Did you know…
Since the legal voting age was lowered from 21 to 18 in 1972, the voter turnout rate among 18-24 year olds has steadily declined. In 1972, 50% of 18 to 24 year olds voted. By the 1996 elections only 32% of young people in that age group turned out at the polls. Turnout among this age group in 1998 was below 20%.
In 2010 the youth (18-29) turnout was 20.4% when the entire percentage of registered voters in Broward County who actually voted was 40.99%. We can and must do much better. Democrat or Republican. Click to know the Difference.
News & Announcements
Election dates for 2021-2022: See dates for special Special Election for U.S. Congress District 20, plus regular elections through 2022.
2020 Kids Voting Election Results
More information on Elections Pages
Kids Voting Broward
600 SE 3rd Ave., Fort Lauderdale, FL 33301;
Phone: 754-321-1870