Kids Voting Broward is working to secure the future of democracy by preparing young people to be educated voters.
NEWS & ANNOUNCEMENTS
NEW Voter Information Cards will be mailed to you—PLEASE SAVE
For more information, see the Elections Tab
Updates on Redistricting: For more information, see the Redistricting Tab
Election Dates
Primary Election

:  Tuesday, August 23, 2022

General Election

: Tuesday, November 8, 2022
WHY YOUR VOTE COUNTS
Sponsored by: Kids Voting Broward and League of Women Voters of Broward County
Here are the results of the Contest to produce 60 sec. PSAs on importance of voting:
Congratulations to the Winners and enjoy their PSAs
First Place: "One Vote Can Make a Difference" by Shayane Jean-Paul, Atlantic Technical High School
Second Place: "Go Vote" by Tamar Aveus, Atlantic Technical High School
Third Place: "Reform" by Jewel Cross, Northeast High School
Broward County District Maps
Please note that the Florida Legislature has revised the boundaries for all US House, State Senate, and State House maps. Below, you can click on any of the links to view interactive maps that show the revised district lines drawn by the State Legislature. As of May, 2022, Congressional, State Senate, and State House maps have been approved by legislature and signed by Governor DeSantis. Voters can expect to see new district numbers on their voter identification cards in the August 2022 Primary and November 2022 General Elections.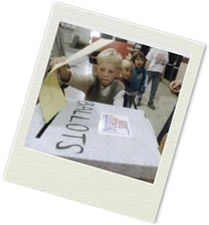 Did you know…
Since the legal voting age was lowered from 21 to 18 in 1972, the voter turnout rate among 18-24 year olds has steadily declined. In 1972, 50% of 18 to 24 year olds voted. By the 1996 elections only 32% of young people in that age group turned out at the polls. Turnout among this age group in 1998 was below 20%.
In 2010 the youth (18-29) turnout was 20.4% when the entire percentage of registered voters in Broward County who actually voted was 40.99%. We can and must do much better. Democrat or Republican. Click to know the Difference.
Kids Voting Broward
600 SE 3rd Ave., Fort Lauderdale, FL 33301;
Phone: 754-321-1870