Kids Voting Broward is working to secure the future of democracy by preparing young people to be educated voters.
NEWS & ANNOUNCEMENTS
General Election 2022: Florida's election results concluded on Tuesday, November 8, 2022. To view KVB outcomes, see the Elections Tab.
Updates on Redistricting: For more information, see the Redistricting Tab
Federal Offices

United States Senate
Marco Rubio (R)
US House of Representatives
Dist. 20: Shelia Cherfilus-McCormick (D)
Dist. 23: Jared Moskowitz (D)
Dist. 24: Frederica Wilson (D)
Dist. 25: Debbie Wasserman Schultz (D)
State Legislative Offices

Florida Senate
SD 30: Tina Scott Polsky (D)
Florida House of Representatives
HD 96: Dan Daley (D)
HD 100: Chip LaMarca (R)
HD 101: Hillary Cassel (D)
HD 103: Robin Bartleman (D)
HD 105: Marie Woodson (D)
State Judicial Offices

Florida Supreme Court

Charles T. Canady (Retained)

John D. Couriel (Retained)

Jamie Grosshans (Retained)

Jorge Labarga (Retained)

Ricky Polston (Retained)

4th District Court of Appeals

Ed Artau (Retained)

Cory J. Ciklin (Retained)

Dorian K. Damoorgian (Retained)

Jonathan D. Gerber (Retained)

Robert M. Gross (Retained)

Spencer D. Levine (Retained)

Melanie G. May (Retained)
ELECTED ON AUGUST 23, 2022

Florida Senate
SD 35: Lauren Book (D)
Florida House of Representatives
HD 97: Lisa Dunkley (D)

HD 98: Patricia Hawkins-Williams (D)

HD 99: Daryl Campbell (D)

Broward County Commission
District 6: Beam Furr (D)

District 8: Robert McKinzie (D)

District 9: Hazelle Rogers (D)

Broward County School Board
District 4: Lori Kim Alhadeff

District 7: Nora Rupert

17th Circuit Court Judge
Group 9: Lauren Melissa Alperstein

Group 14: William W. 'Bill' Haury, Jr

County Court Judge
Group 26: Mardi Anne Levey Cohen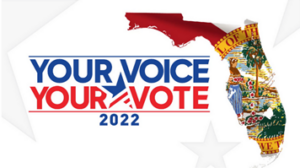 State Executive Offices

Governor/Lieutenant Governor
Ron DeSantis (R); Jeanette Nuñez (R)
Attorney General
Ashley Moody (R)
Commissioner of Agriculture
Wilton Simpson (R)
Chief Financial Officer
Jimmy Patronis (R)
Broward County Offices

Broward School Board

(Nonpartisan)

Dist. 1: Rodney Gabriel Velez

Dist. 5: Jeff Holness

Dist. 6: Brenda Fam

Dist. 8 (At Large): Allen Ridgdill Zeman

County Court Judges

(Nonpartisan)

Group 15: Chris M. Brown
17th Circuit Court Judges (Nonpartisan)
Group 23: Gary M. Farmer Jr.

Group 51: Lorena Mastrarrigo
Special Districts

Central Broward Water Control Dist.
Zone 2: Susan Coyle
Coral Bay Community Development
District 3: Ronald Gallucci
Plantation Acres Improvement District
Lance Fein, Jeff Munchick, Jorge Santana
Turtle Run Community Development District
Seat 1: James "Rob" Shipe

Seat 3: Zaida L Karnegis

Walnut Creek Community Development District
Seat 2: Betty A. Ros
ELECTED WITH NO OPPOSITION

Florida Senate
SD 32: Rosalind Osgood (D)

SD 37: Jason Pizzo (D)

Florida House of Representatives

HD 95: Christine Hunschofsky (D)

HD 102: Michael Gottlieb (D)

HD 104: Felicia Simone Robinson (D)

Broward County Commission
District 4: Lamar Fisher (D)
WHY YOUR VOTE COUNTS
Sponsored by: Kids Voting Broward and League of Women Voters of Broward County
Here are the results of the Contest to produce 60 sec. PSAs on importance of voting:
Congratulations to the Winners and enjoy their PSAs
First Place: "One Vote Can Make a Difference" by Shayane Jean-Paul, Atlantic Technical High School
Second Place: "Go Vote" by Tamar Aveus, Atlantic Technical High School
Third Place: "Reform" by Jewel Cross, Northeast High School
Broward County District Maps
Please note that the Florida Legislature has revised the boundaries for all US House, State Senate, and State House maps. Below, you can click on any of the links to view interactive maps that show the revised district lines drawn by the State Legislature. As of May, 2022, Congressional, State Senate, and State House maps have been approved by legislature and signed by Governor DeSantis. Voters can expect to see new district numbers on their voter identification cards in the August 2022 Primary and November 2022 General Elections.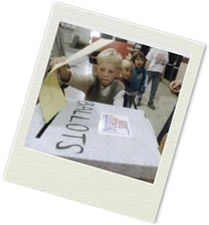 Did you know…
Since the legal voting age was lowered from 21 to 18 in 1972, the voter turnout rate among 18-24 year olds has steadily declined. In 1972, 50% of 18 to 24 year olds voted. By the 1996 elections only 32% of young people in that age group turned out at the polls. Turnout among this age group in 1998 was below 20%.
In 2010 the youth (18-29) turnout was 20.4% when the entire percentage of registered voters in Broward County who actually voted was 40.99%. We can and must do much better. Democrat or Republican. Click to know the Difference.
Kids Voting Broward
600 SE 3rd Ave., Fort Lauderdale, FL 33301;
Phone: 754-321-1870