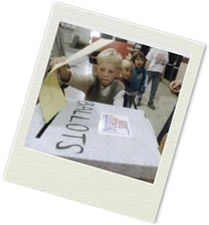 Did you know…
Since the legal voting age was lowered from 21 to 18 in 1972, the voter turnout rate among 18-24 year olds has steadily declined. In 1972, 50% of 18 to 24 year olds voted. By the 1996 elections only 32% of young people in that age group turned out at the polls. Turnout among this age group in 1998 was below 20%.
In 2010 the youth (18-29) turnout was 20.4% when the entire percentage of registered voters in Broward County who actually voted was 40.99%. We can and must do much better. Democrat or Republican. Click to know the Difference.
Attention all high school students: Video content
Produce a 30 to 60 second video on "Why Your Vote Counts." 
Making Democracy Work requires that citizens vote, not only in national elections, but also in local elections. Too many eligible voters, however, choose not to vote. In fact, according to the U.S. Census Bureau, the largest group of non-voters consists of 18-24-year-olds.
Contest Description: Broward County high school students are invited to create a 30-60 second non-partisan PSA (Public Service Announcement) to persuade these young voters that their vote counts. The Why Your Vote Counts Video should promote how civic engagement and active voter participation can advance the issues important to young voters.
Important Dates
January 12, 2022: Contest Opens
March 4, 2022: Video Submission Opens
April 1, 2022: Video Submission Ends
April 6, 2022: Judging Occurs
April 13, 2022: Winners Announced
April 23, 2022 : Award Presentations at LWVBCFL Annual Meeting
Questions about the Contest?
All rules and prize information found here:
Video contest release forms for students under 18
Video contest release forms for students 18 and older
News & Announcements
Election dates for 2021-2022: See dates for special Special Election for U.S. Congress District 20, plus regular elections through 2022.
2020 Kids Voting Election Results
More information on Elections Pages
Kids Voting Broward
600 SE 3rd Ave., Fort Lauderdale, FL 33301;
Phone: 754-321-1870