How to Lobby Your Issue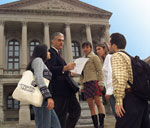 To lobby means:  TO TRY AND INFLUENCE
Lobbying is nothing more than a high-powered word for trying to convince someone to see things your way.  When you lobby an elected official or a group you are trying to make them understand why what you believe to be the correct answer or action is better than any other answer or action.  Or you are pointing out a problem that may not have otherwise been known.
DO SOME HOMEWORK BEFORE YOU CONTACT PERSON
Find the right person to talk to.  You want to talk to the official who has jurisdiction over the  issue you are concerned about.
Find out how they feel about the issue, including how they may have previously voted.
Be specific about what you ask for–One issue at a time.
Ask the right questions.  Learn the terms, the jargon you will use.
Be very clear in your wording.  Stick to the point.  Be concise.
Always mention if you are a constituent of that elected official.
Listen to what the official has to say.  Don't be angry if the official doesn't agree with you.
Try to get a commitment for the action you requested.
Always say "thank you for your time and consideration."
IF YOU CALL
Have your ideas written out in front of you.
Be clear and concise.
IF YOU MEET IN PERSON
Make an appointment.  Be on time.  Dress appropriately.
Do your homework before the meeting.
Get to the point and stay on track.
If legislator is unavailable, speaking to the aides can be nearly as effective.
Have your points written and in front of you.
Try to get a commitment before you leave.
TO SPEAK AT A PUBLIC HEARING
Find out when and where.  Then be on time, even if you have to wait to speak.
Call ahead of time to get your name on the agenda and to ask about time limits.
Write your statement in concise terms.  Be sure you state your name and address.
Make copies of statement to give to secretary and to the press.
Speak clearly.  Its OK to read your statement.  Answer questions as well as you can and offer to send further information, if necessary and/or appropriate.
IF YOU WRITE A LETTER
Try to be neat, but don't be too worried about making mistakes; it's more important that your message is easy to understand and easy to read.
Keep it short and to the point, covering only one issue.
Send to the main office.  If it is to an agency, send it to the head of the agency.
Send letter to anyone involved, including press but list those receiving copy at end of letter.
Be courteous.
Begin and close your letter as follows:
            President:        The President                                             Dear Mr. President:
                                    The White House
                                    Washington, D.C. 20500              Very respectfully yours,
            Senator:           The Honorable _______                      Dear Senator_____:
                                    US Senate
                                    Washington, D.C. 20510              Sincerely,
            Representative:  The Honorable ______                        Dear Mr. _____:
                                    US House of Representatives
                                    Washington, D.C. 20515              Sincerely,
            Member of the Cabinet:
                                    The Honorable                               Dear Mr./Madam Secretary:
                                    The Secretary of
                                    Washington, D.C. 20500              Sincerely,
            Governor:        The Governor                                             Dear Governor:
                                    The Capitol
                                    Tallahassee, FL 32399              Sincerely,
            For other elected officials, use their title in the address and greeting.
                                    Commissioner ________                    Dear Commissioner ____: